With the planning world currently holding its breath to see what the new Government's proposed changes to the system might bring, we are delighted to have forged our way through the existing system (yet again!) to obtain permission for two prestigious developments. Our incredible 100% success rate on such planning applications stands!

The first new project is a 44-box yard situated in Rixton, Warrington and work on this site is already underway and currently well ahead of our build schedule. The yard is to be a top class competition livery with indoor and outdoor arenas and covered walker. It is perfectly sited for easy travel to competition (including our head office location of SouthView of course!) and enquiries are already being made by horse owners eager to secure places there!

This is a Greenbelt site and we were delighted that the application was warmly received at the Local Authority after our careful pre-submission negotiation. Once again our in depth horse and construction knowledge came to the fore in being able to explain the requirements in detail to the Planning Officers. Greenbelt is a notoriously difficult designation in which to gain LPA approval and horse developments are actually deemed 'inappropriate' in such areas (one of the things we are currently lobbying at Government level to try to change!) so we are doubly delighted with the speed with which this particular application was progressed.

The second site is also a complete complex, and also in Cheshire – amazing that two projects have come so close together when our work is generally spread all around the country. This one is near Brereton, another brilliantly positioned site for a competitive rider. This will become the yard of professional Show Jump rider James Davenpor and his Swedish partner Angelie Von Essen. Again, the location was not an easy proposition in planning terms, being in an open field in open country! Addressing Highways and environmental concerns made this one a lengthy process. Our client has certainly fully appreciated the fact the Charles Britton makes no charge for this administration as a paid by the hour 'planning expert' would without doubt have cost an absolute fortune.

The ultimate result was unanimous vote of support by the Planning Committee after many months of careful negotiations and a brilliant presentation by Charles at the decision meeting. James and Angelie are truly delighted with the result and works will start after July when a last hay crop has been taken (weather permitting!). In the meantime Health and Safety analysis and project planning is already well underway.

The site has a modest great crested newt population in a nearby pond and the project will include appropriate mitigation measures on this and to generally improve the wildlife habitat of the property. Top of the list of 'first class habitat' will be the one we are providing for James, Angelie and the horses, of course! This will comprise a 20-box stable and service unit, 60 x 30 Metre outdoor arena and a 50 x 25 indoor plus storage lean to. A new highway entry will link to parking areas and the whole thing will have extensive landscaping and planting….all executed turn key as is our norm.

Both of these complexes will be truly valuable additions to the client's properties. Our staff are also very excited to be working on two 'big ones' at once…and the pleasure for Head office administration staff is that both are nearby, so for once we get to go along and see things in action! (maybe …….if the phone ever stops ringing!)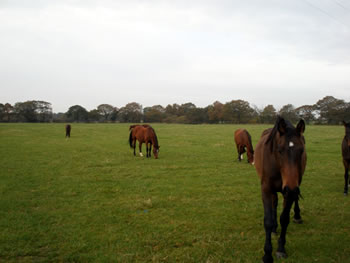 Some of James Davenport's top quality youngstock enjoy the spring grass in the field where his comprehensive new facilities are soon to be constructed.

We look forward with our two valued clients to prompt and efficient completion of these projects. Updates on site progress soon!